Naturopathic Pediatrics and the Disease Process
One goal of Naturopathic pediatrics is to use natural therapies to prevent and treat mild to moderate conditions, resorting to pharmaceutical and surgical interventions as secondary options or in emergency situations. The core belief in Naturopathic pediatrics is to encourage the body to heal itself. This is achieved through supporting the immune system, addressing nutritional deficiencies, promoting a healthy diet and lifestyle; including exercise, sleep and mental habits.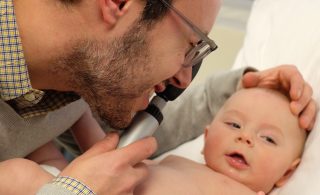 Disease as a Process
Fever is an excellent example of how a naturopathic approach may differ from a conventional approach. A fever is our natural defense mechanism against a pathogen. By raising the temperature of the body a few degrees many pathogens (viruses, bacteria) stop functioning optimally and the body activates inflammatory immune cells and enzymes to destroy the invading organism. While conventional medicine often sees disease symptoms, like a fever, as something to be suppressed, naturopathic doctors often see them as something to be promoted.
It has become commonplace to try to intervene in the disease process too swiftly, taking medications to decrease fever and inflammation prematurely. The Naturopathic Doctors role is to recognize the stages of the disease process, closely monitoring a fever, knowing when a fever should be left alone and when intervention is necessary. All the while helping the child feel better without interfering in the healing process.
The 5 Stages of Disease
There are generally 5 stages of the disease process: Incubation, Aggravation, Destruction, Abatement and Reconstruction.
Incubation is where the invading organism is accumulating in certain areas of the body. This process can take hours to days to weeks to months. The immune system reacts and either removes the organism or the organism replicates too quickly and the body moves to the next stage. It is common to not have any obvious signs of infection during this stage.
Aggravation includes the usual signs of inflammation, replication of immune cells, fever, redness, pain, malaise, loss of appetite and fatigue. These are signs that the immune system is hard at work and should be encouraged. This is where suppression commonly occurs with fever reducing medications, and anti-inflammatories, which can revert healing back to the incubation phase.
Destruction is the peak of inflammation and results in the destruction of one organism or another.
Abatement occurs when the fight is over and it's time to clean up the debris. The immune cells, dead organisms and inflammatory fluids must be removed by the body. The fever "breaks" and sweating begins. Coughing up phlegm, runny nose, diarrhea and other discharges remove the debris from the body. In conventional medicine, cleanup is often viewed as an additional set of annoying symptoms that need to be suppressed by drugs, often impeding on the "cleanup" process.
Fever reductions after administering fever reducing medications should not be confused with abatement. The fever will often spike again. The immune system is trying to do its job but is being suppressed.
Reconstruction happens next. The body is reconstructing damaged tissue, the body is attempting to reset back to its original state.
Most pediatric infections will run their course, and the child will heal themselves. The Naturopathic Doctor watches the disease process closely, waiting to see if the body will heal or get worse requiring intervention. Besides making this decision, it is also the Naturopathic Doctors role to encourage processes like fevers, rather than suppress healing and teach parents to save fever reducing medications until necessary.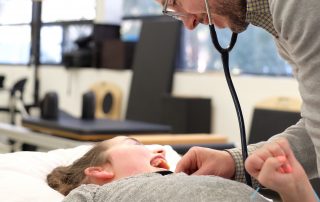 Intervention
The Naturopathic Doctor monitors the inflammatory process, only intervening to prevent a severe state of aggravation. Mild interventions such as cooling baths, friction rubs, warming socks can often lower a high fever and help the child feel better. These therapies have their limits and are not always sufficient. It is also the Naturopathic Doctors role to recognize an emergency situation that requires pharmaceutical intervention and to educate the family with regard to monitoring the disease and recognizing an emergency situation.
Safety
The first principle of Naturopathic Medicine is "primum non nocere" first, do no harm. Safety is a combination of good diagnostics, good choice of treatments, prevention, and physician intervention when necessary. The properly trained, properly regulated Naturopathic Doctor should be able to guide the family through a confusing landscape of both conventional and non-conventional medicine by knowing which "alternative" approaches are safe and effective and when referral to another integrative professional or physician will be in the best interest of the infant, child or adult.
Dr. Shawn Meirovici N.D. is proud to be offering Best Naturopathic Pediatrics in Toronto, North York area.