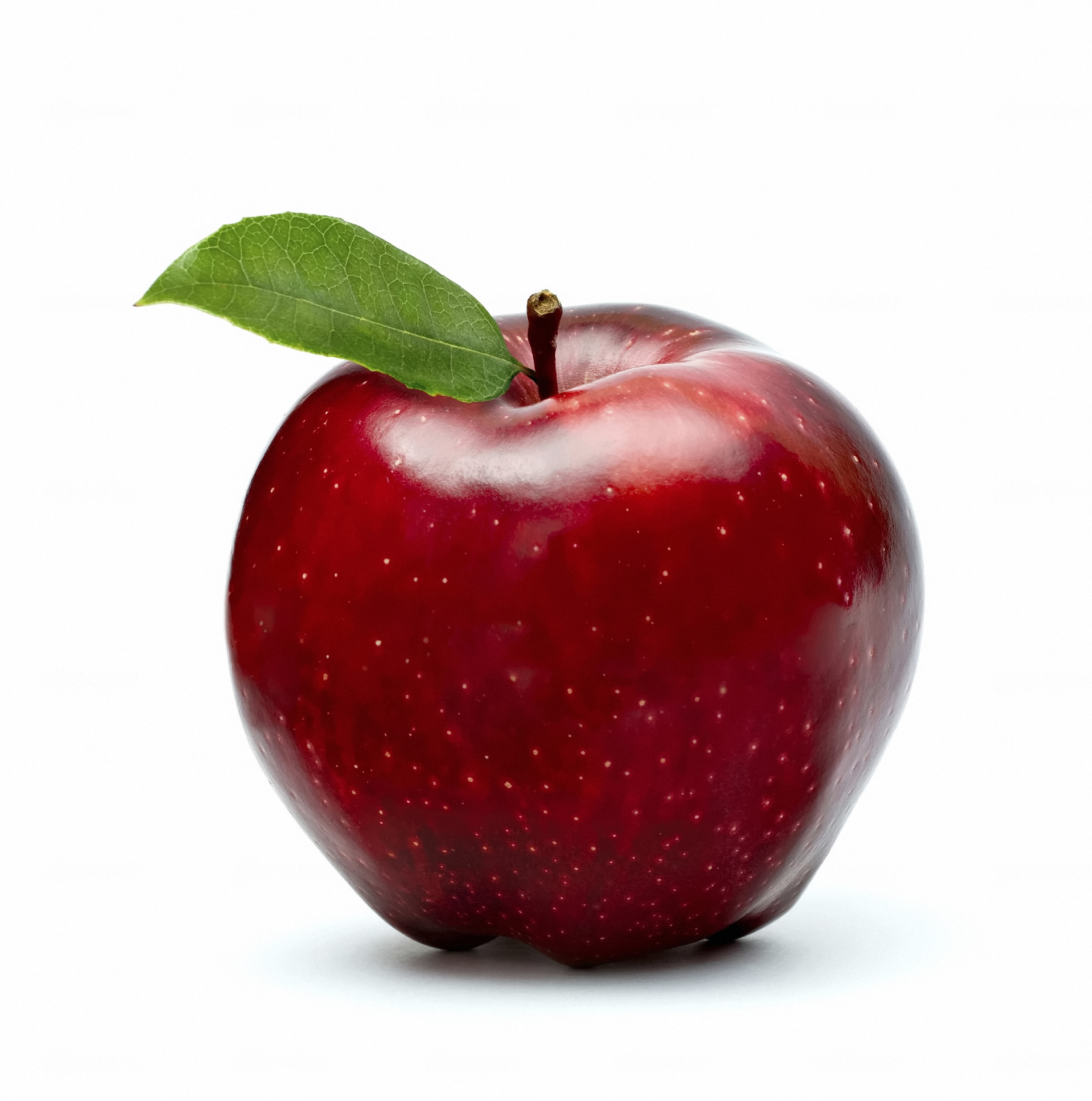 Apple is the fruit from the tree Malus Domestica, a member of the rose family (Rosaceae) which also includes Peaches. The apple tree originated in western asia and was brought to north america in the 17th century.
Thousands of years of cultivation has lead to many varieties of apples differing in texture and taste.  I personally enjoy Russet for its sophistication of flavor and Honey Crisp for its crispy sweetness. The wide variety of apples make them a great fruit to enjoy on their own or to prepare into other foods. Apples are now in season, making it a great time to go to a local orchard and experience the taste of a freshly picked apple.
The proverb "an apple a day keeps the doctor away" dates back to 19th century Whales. There are many healthy compounds found in apples, such as: antioxidants, fiber, vitamins and minerals. Recent research has focused on investigating the health benefits of the polyphenols found in apple peel.
A study published in the Journal of Pharmacology in July of 2010 demonstrated that an apple peel polyphenol extract (APPE) protected colorectal cells against the cytotoxic effects associated with consumption of the anti-inflammatory drug indometacin. APPE was shown to have free-radical scavenging ability, preventing mitochondrial (the energy production center of the cell) oxidative damage induced by indometacin.
A study in the Journal of Agricultural Food Chemistry in June 2010 revealed that APPE may have a role to play in the treatment and prevention of H. pylori infection. The study concluded that doses of 150 and 300 mg/kg/day of APPE showed an inhibitory effect on H. Pylori attachment to the stomach lining. Furthermore, APPE also showed an anti-inflammatory effect on H. Pylori associated gastritis.
The same journal contained a study published in May 2010 demonstrating the liver protective effects of apple polyphenols. The study concluded that apple polyphenols had significant effect against acute liver damage induced in mice. The authors speculate that the effect may be due to the free radical scavenging, inhibition of fat oxidation and increased antioxidant activity of apple polyphenols.
In the same month, the same journal published a study demonstrating that apple juice containing apple polyphenols can actually inhibit the activity of toxins produced by staphylococcus. A toxin which effects the intestine known as "staphylococcal enterotoxin A" is a common culprit of gastroenteritis. The apple polyphenols studied here were shown to bind to the enterotoxin rendering it biologically inactive.
In Naturopathic medicine, as with all health care models, safety is never taken for granted; even when dealing with relatively natural substances. It is necessary to seek out, if possible, studies demonstrating the safety profile of a medicinal substance. The Journal of Oleo Science published a study this year evaluating the safety of excessive intake and efficacy of long-term intake of beverages containing apple polyphenols. Subjects were either given a normal dose (340g/day) of apple polyphenols for 12 weeks or three times the normal dose (1020g/day) of apple polyphenols for 4 weeks. There were no adverse reactions noted in either trial. The study also found that the consumption of the apple polyphenols led to a significant reduction in visceral fat area of subjects who were above normal range at baseline, with no change in visceral fat area in subjects in normal range at baseline.
As I have mentioned in previous articles, I especially like studies that evaluate consumption of the whole food over time. The European Journal of Cancer Prevention published a study in January of 2010 that evaluated the effect of regular consumption of apples on colorectal cancer risk in populations with low intake of fruits and vegetables (i.e. most north american populations). The study revealed that while there was more than a 30% reduction in cancer risk with just one apple a day, risk was reduced to around 50% with intake of more than one apple per day. The authors speculate that the beneficial effect may result from the rich content of flavonoid and other polyphenols, which can inhibit cancer onset and cell proliferation.
It seems the old proverb is true, so enjoy your apple, or better yet, more than one apple a day and remember to always have the peel too.