Spirulina, a truly super supplement!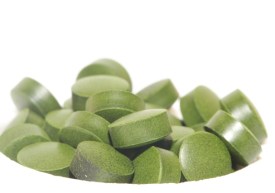 In this months edition we shift gears slightly to focus on a "super-food" most commonly found in the form of a dietary supplement; Spirulina.
Spirulina is a cyanobacteria; meaning that it's a bacterium which derives its energy through photosynthesis. Cyanobacteria are also commonly known as blue-green algae. Spirulina is commonly made from two strains of cyanobacteria: Arthrospira platensis and Arthrospira maxima. Although now cultivated around the world, spirulina is found naturally growing in only three lakes: Lake Chenghai (China), Lake Chad (Africa) and Lake Texcoco (Mexico).
Spirulina is available at most health food stores in the form of powder, flake or tablet. Much like Quinoa, Spirulina is a complete protein source, containing all essential amino acids. It is also a source of essential fatty acids and is one of the only vegan friendly reservoirs of the omega-3 fatty acids EPA and DHA. Spirullina's blue-green pigment is an indicator that it is rich in vitamins and other beneficial anti-oxidants. These antioxidants include, but are not limited to: beta-carotene, zeaxanthin, and chlorophyll. The unique blend of antioxidants found in spirulina make it a fascinating health promoting supplement, which has demonstrated benefit in the treatment of HIV, brain health, heavy metal chelation, cardiovascular disease and allergies.
The Journal of Nutritional Science and Vitaminolgy published a paper that investigated the effect of supplementing rats prone to the development of cognitive disease , similar to Alzheimer's disease, with spirulina. Alzheimer's disease is characterized by the deposition of amyloid beta-protein, which is thought to "gum up" the functioning of neurons in the brain. The rats studied were bred to be prone to the deposition of amyloid beta-protein. One group of rats received daily supplementation of 50mg/kg spirulina, another group received 200mg/kg spirulina and the third group did not receive spirulina. Analysis of the rat brains (poor rats) demonstrated a reduction in amyloid beta-protein in both spirulina treated groups. There were also lower levels of oxidative damage in the brains of spirulina treated rats. Therefore spirulina may be a beneficial supplement for the prevention of Alzheimer's disease in genetically prone individuals.
Back in 1998 a paper was published that investigated the effect of spirulina extract on the growth of HIV in human white blood cells. It was found that extract concentrations ranging between 0.3-1.2 micrograms/ml reduced the growth of HIV by 50%. The authors concluded that spirulina may be a potential agent used for the treatment of retroviruses like HIV.
Aside from a runny nose, itchy eyes and sneezing, seasonal allergies are characterized by a relative increase in white blood cells known as TH2 cells. One of the ways TH2 cells increase and cause allergy is by a messenger molecule in the blood called interleukin 4 (IL4). In 2005 the Journal of medicinal food published a study that looked at the blood of individuals with allergic rhinitis before and after supplementing with spirulina. The study was a placebo controlled randomized crossover trial where individuals either received 1g, 2g spirulina or placebo daily for 12 weeks. The blood samples at 12 weeks found that 2g spirulina per day reduced IL4 levels by 32%.
Environmental medicine is an exciting emerging field of medicine that looks at how toxins in our environment effect our health, and more importantly how to protect ourselves from the harmful effects of environmental toxins. There are few natural substances that have demonstrated an ability to promote the excretion of some of these harmful toxins, spirulina is one of them. A study published in 2006 looked at the effect of a spirulina and zinc supplement on individuals in Bangladesh chronically exposed to the toxic metal arsenic. These individuals were given 250mg spirulina extract and 2mg zinc twice daily for 16 weeks. There was a increase in urinary excretion of arsenic (detoxification) at 4 weeks which continued for an additional 2 weeks in individuals taking the spirulina zinc combo. At 16 weeks the spirulina plus zinc combo removed 47.1% arsenic from scalp hair (one of the ways to test for arsenic exposure is through hair analysis), whereas results from placebo were not statistically significant. Other studies have shown that spirulina may also chelate (remove) iron, which can be useful for individuals with toxic amounts of iron in the body but may be counter productive for individuals taking an iron supplement.
It seems that a large part of the health benefits seen through the use of spirulina are due to its unique blend of antioxidants. A laboratory study discovered that cells exposed to harmful chemicals had 4-5 times less apoptosis (cell death) when treated with an aqueous extract of spirulina. Another study demonstrated that a diet supplemented with 0.1% spirulina protects against inflammation and oxidative damage in brain neuronal cells. This same studied showed that spirulina increased the proliferation of neural stem cells which have the ability to replace damaged cells. Spirulina is therefore a promising natural supplement for the field of neural and cognitive health.
A study published in the november 2007 edition of the journal: Lipids in Health and Disease, investigated the effect of spirulina supplementation on cholesterol and blood pressure. Thirty six men and women had blood cholesterol levels and blood pressure measured before the study. They were supplied with 4.5g/day spirulina for 6 weeks. There were no other changes to diet and exercise. After 6 weeks total cholesterol levels decreased by approximately 20 mg/dl, tracylglycerides decreased by approximately 60 mg/dl and HDL (good cholesterol) increased by approximately 10 mg/dl. Systolic and diastolic blood pressure also decreased in participants by approximately 10 mmHg. With all the health promoting benefits of spirulina, it is important to consider a few things before taking this medication. As with every supplement, allergy can occur so be careful to monitor and possible allergic symptoms when taking spirulina for the first time. Spirulina contains the amino acid phenylalanine, which can be harmful for individuals who cannot metabolize this amino acid known as phenylketonuria. Since spirulina is a water born blue-green algae it is important that it is not sourced from a contaminated water source. I would recommend going with a reputable supplement company. Spirulina is a very promising natural dietary supplement whose beneficial effects can be seen in almost every organ system in the body. These effects are likely due to its unique blend of antioxidants. Use this supplement with necessary caution and remember that in nature there exist both beneficial bacteria and harmful bacteria, a naturopathic doctor can help to explain the difference and point you in the right direction toward optimal health.