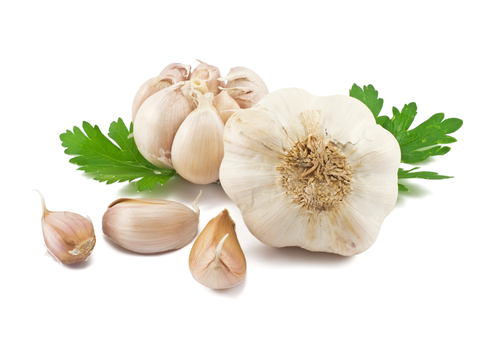 Garlic (Allium Sativum) is an ancient therapeutic food that has been in use since the dawn of medicine. It is mentioned in the bible and has been used by all the great forefathers of modern medicine such as: Hippocrates, Galen and Dioscorides. Garlic is mentioned several times in the Ebers Papyrus, an ancient Egyptian medical text written circa 1550 B.C. Garlic was used topically and internally to treat ailments of the respiratory tract, digestive tract and for infection. Men and women would consume large quantities of garlic to prevent illness and improve endurance. Garlic bulbs have even been found buried in the tombs of Egyptian royalty, such as King Tutankhamen. Garlic continues to be one of the most powerful remedies in the modern day alternative health care practitioner's toolbox. Fortunately, it has worked so well for so many thousands of years that a significant amount of funding has gone into researching the particular constituents contained in Garlic that lend it its medicinal properties.
Research has shown that sulfuric compounds in garlic are effective at lowering blood pressure, lowering LDL cholesterol, exploding certain cancer cells, and killing some strains of harmful bacteria. The following is an overview of some of the most compelling research on Garlic as a medicinal supplement over the past few years.
In ancient times Garlic was viewed as a tonic of the respiratory and digestive tract, however; persuasive evidence based research demonstrates that it is also a tonic for the cardiovascular system. In 2010 a double-blinded randomized placebo-controlled trial was performed on 51 coronary heart disease patients to determine the effect of time-released garlic powder tablets on the risk of heart attack and sudden death. It was demonstrated that after 1 year on the garlic supplement, men had a 1.5-fold reduced risk for serious cardiovascular disease and women had a 1.3-fold reduction in risk. The reduced risk was extrapolated through the finding that men had on average a decrease in LDL-cholesterol by 32.9 mg/dl and women had a 27.3 mg/dl decrease on the garlic supplement.
Besides high LDL-cholesterol, another marker of risk for cardiovascular disease is hypertension. A Meta-analysis that looked at 1994 randomized placebo controlled trials using garlic preparations as intervention for hypertension found that garlic was significantly more effective than placebo. In hypertensive patients garlic preparations produced an average of an 8.4 mmHg drop in systolic blood pressure and a 7.3 mmHg drop in diastolic blood pressure. A research article published in 2007 demonstrated that the polysulfuric compounds in garlic are converted into hydrogen sulfide by red blood cells. In turn, hydrogen sulfide has the ability to relax blood vessels, therefore decreasing blood pressure.
Over the past decade there have been numerous studies looking into garlic as a potential anti-cancer medicinal food. Studies, which looked at the correlations between garlic consumption and incidence of cancer, haven't been extremely convincing in either direction. Some correlations do exist, however, which has spawned further investigation into the anti-carcinogenic properties of Garlic. A 2009 study in the journal of Clinical Cancer Research demonstrated that one of the sulfuric compounds in garlic, diallyl trisulfide, may have a beneficial effect on prostate cancer cells. Just like some breast cancers are sensitive to estrogen, some prostate cancers are sensitive to androgens, like testosterone. Bicalutamide is a drug given to some patients with prostate cancer in order to block the effect of testosterone on cancer cells. The diallyl trisulfide found in garlic has a similar effect to this medication, causing a decrease in androgen receptor protein, leading to a decrease in prostate specific antigen levels (PSA).
One of the most fascinating articles that I came across was an article published in 2008 in the Journal of Biologics: targets and therapy. The study looked at the treatment of childhood Pre-B Acute Lymphoblastic Leukemia (ALL) with preparations of garlic extracts compared to common chemotherapeutic agents used in the treatment of this illness. One of the most concerning side effects in chemotherapy treatment, especially of leukemia, is a decrease in white blood cell count and therefore a susceptibility to infection. While both the chemotherapeutic drugs and the garlic extract caused a destruction of cancerous cells, only the garlic extract was reported to not have any detrimental effect on non-cancerous white blood cells. The authors also comment on the fact that garlic is known to be an effective (around 10% the effectiveness of the antibiotic vancomycin) antimicrobial agent against many hospital acquired infective organisms.
In light of the recent cholera outbreak in Haiti, I decided to include the following study published in 2009 in the journal of Bioscience, Biotechnology and Biochemistry. In this study garlic oil was studied for its diallyl sulfide content and its antimicrobial activity against V. cholerae. The in-vitro study found the oil to have bacteriocidal effect against all tested strains of V. cholerae. It was also demonstrated that the garlic oil had an inhibitory effect on the growth of V. cholerae in contaminated food. In my opinion, it wouldn't be a bad idea for the Centre for Disease Control and Prevention to add regular consumption of garlic to its cholerae prevention protocol in Haiti.
On a final note, I came a cross an article published in 2009 in the Journal of Agricultural and Food Chemistry that confirms the notion that fresh crushed garlic has a greater therapeutic benefit than processed garlic. This is due to a higher concentration of the sulfuric compounds that have been previously mentioned in fresh garlic. Like all food, garlic is potentially aggravating for some individuals and can cause allergic reaction in individuals with an allergy to the Alliaceae family. Be diligent when consuming garlic, especially when adding garlic to the diet of children. I have used garlic in numerous home remedies for cardiovascular health, and for upper respiratory and gastrointestinal infection. The most common complaint I get is the smell. Since the unpleasant odor of garlic is actually emitted from the inside out, it is very difficult to conceal. I have heard that consuming milk with garlic is the best way to cover it up. Cooking the garlic also helps but this greatly diminishes its therapeutic benefit. I now look at this odor as the odor of a healthy heart, and most likely, the distinguished odor of Egyptian royalty.