The Benefits of Collagen Supplementation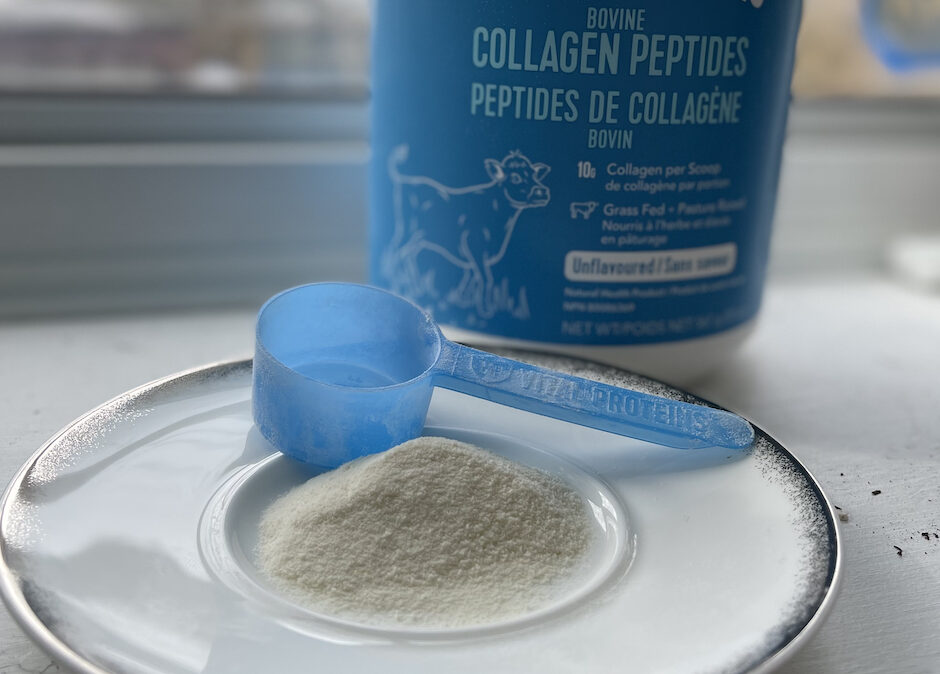 For the past 6-months I have been supplementing with collagen peptides in my morning coffee. I take relatively few daily supplements; Lions Mane mushroom for my brain, Vitamin D for my immune system and Collagen Peptides for my joints. I became focused on protecting my joints (especially my fingers, toes, knees and shoulders) a few years ago as I started training harder in rock climbing. I began to feel stiffness, soreness and occasionally pain after hard training sessions. I decided I needed to do something soon or I would lose the ability to climb at a relatively young age.
Instead of suppressing inflammation with compounds like curcumin, glucosamine and chondroitin I wondered if it would be possible to actually strengthen my tendons and ligaments. I had been aware of collagen supplementation through a number of patients taking it for hair and skin health. I had largely dismissed collagen as a beauty supplement and it was therefore not on my radar as a potential athletic enhancement.
Just over 6-months ago I had received a newsletter about of tendon health for climbers. The physiotherapist/climbing expert outlined specific exercises for warming up fingers and also mentioned the benefits of collagen supplementation for tendon health. At that moment I decided to re-visit the research on collagen, and I am glad I did!
Collagen peptides are small amino acid chains derived from collagen, which is the primary structural protein in ligaments, tendons, bones and skin. The research behind supplementing with collagen peptides seems to support three key areas.
Skin
A few studies, including randomized placebo controlled trials, have shown an improvement in skin moisture, elasticity and wrinkles with daily supplementation of Collagen Peptides. The daily dose ranged from 4-10 grams daily.
Osteoarthritis
Several studies have demonstrated a modest benefit in pain and function with daily supplementation of Collagen Peptides. Most studies focused on osteoarthritis (OA) in the knees but a couple also mention hip and hand. In general the improvement was modest (a little better than chondroitin) and took approximately 3-5 months to appear. Some studies used collagen peptides in combination with other compounds like chondroitin and hyaluronic acid. Most studies used a 10 gram daily dose.
Performance Enhancement
A great systematic review came out in 2021 that looked at the effects of collagen peptide supplementation on body composition, collagen synthesis and recovery from joint injury.
Five studies demonstrated a positive effect on reducing joint discomfort, knee pain , ankle and knee function and recovery from achilles tendinopathy. Those studies used 40 mg-10 grams per day over a 4-6 month period.
Four studies looked at the effects of collagen supplementation on body composition and muscle strength. The studies combined collagen supplementation (15 grams per day for 3-months) with resistance training.The studies, which were conducted on elderly men, active men and untrained pre-menopausal women, found an increase in fat free mass, a decrease in body fat percentage and an increase in hand grip strength.
Two studies assessed the effect of collagen supplementation on exercise performance and recovery from muscle soreness. The studies included recreationally active men, one used 3 grams per day for 6 weeks and the other used 20 grams per day for 7 days prior to intense exercise. There was a strong positive effect on pain with movement and muscle soreness.
Two studies assessed the effects of Collagen peptide supplementation on collagen synthesis. When taken 60min prior to exercise there was a significant increase in collagen synthesis markers following ingestion of 15 grams collagen enriched with vitamin C.
Conclusions
When it comes to preserving joint, ligament and tendon health for myself and my patients, collagen peptide supplementation is now a staple. The evidence in favour of collagen, along with a strong safety profile makes collagen peptides a valuable nutritional supplement in both sports medicine and anti-aging medicine. The recommended dose seems to be between 10-20 grams per day for 3-6 months.
References
Inoue N, Sugihara F, Wang X. Ingestion of bioactive collagen hydrolysates enhance facial skin moisture and elasticity and reduce facial ageing signs in a randomised double-blind placebo-controlled clinical study. J Sci Food Agric. 2016;96(12):4077-81.
Czajka A, Kania EM, Genovese L, et al. Daily oral supplementation with collagen peptides combined with vitamins and other bioactive compounds improves skin elasticity and has a beneficial effect on joint and general wellbeing. Nutr Res 2018;57:97-108.
Asserin J, Lati E, Shioya T, Prawitt J. The effect of oral collagen peptide supplementation on skin moisture and the dermal collagen network: evidence from an ex vivo model and randomized, placebo-controlled clinical trials. J Cosmet Dermatol. 2015;14(4):291-301
Sangsuwan W, Asawanonda P. Four-weeks daily intake of oral collagen hydrolysate results in improved skin elasticity, especially in sun-exposed areas: a randomized, double-blind, placebo-controlled trial. J Dermatolog Treat. 2020:1-6.
Benito-Ruiz P, Camacho-Zambrano MM, Carrillo-Arcentales JN, et al. A randomized controlled trial on the efficacy and safety of a food ingredient, collagen hydrolysate, for improving joint comfort. Int J Food Sci Nutr. 2009;60 Suppl 2:99-113.
Kumar S, Sugihara F, Suzuki K, Inoue N, Venkateswarathirukumara S. A double-blind, placebo-controlled, randomised, clinical study on the effectiveness of collagen peptide on osteoarthritis. J Sci Food Agric. 2015;95(4):702-7.
Trc T, Bohmová J. Efficacy and tolerance of enzymatic hydrolysed collagen (EHC) vs. glucosamine sulphate (GS) in the treatment of knee osteoarthritis (KOA). Int Orthop. 2011;35(3):341-8
Moskowitz RW. Role of collagen hydrolysate in bone and joint disease.Semin Arthritis Rheum 2000;30:87-99
Kalman DS, Schwartz HI, Pachon J, Sheldon E, Almada AL. A randomized double blind clinical pilot trial evaluating the safety and efficacy of hydrolyzed collagen type II in adults with osteoarthritis. FASEB Experimental Biology 2004 Abstracts, Washington DC, April 17-21, 2004; A90.
Amino Acids. 2021; 53(10): 1493–1506.Published online 2021 Sep 7. doi: 10.1007/s00726-021-03072-xPMCID: PMC8521576PMID: 34491424The effects of collagen peptide supplementation on body composition, collagen synthesis, and recovery from joint injury and exercise: a systematic review Mishti Khatri,1 Robert J. Naughton,1 Tom Clifford,2 Liam D. Harper, 1 and Liam Corr1