The Healing Power of Myers Cocktail and Vitamin C IV Therapies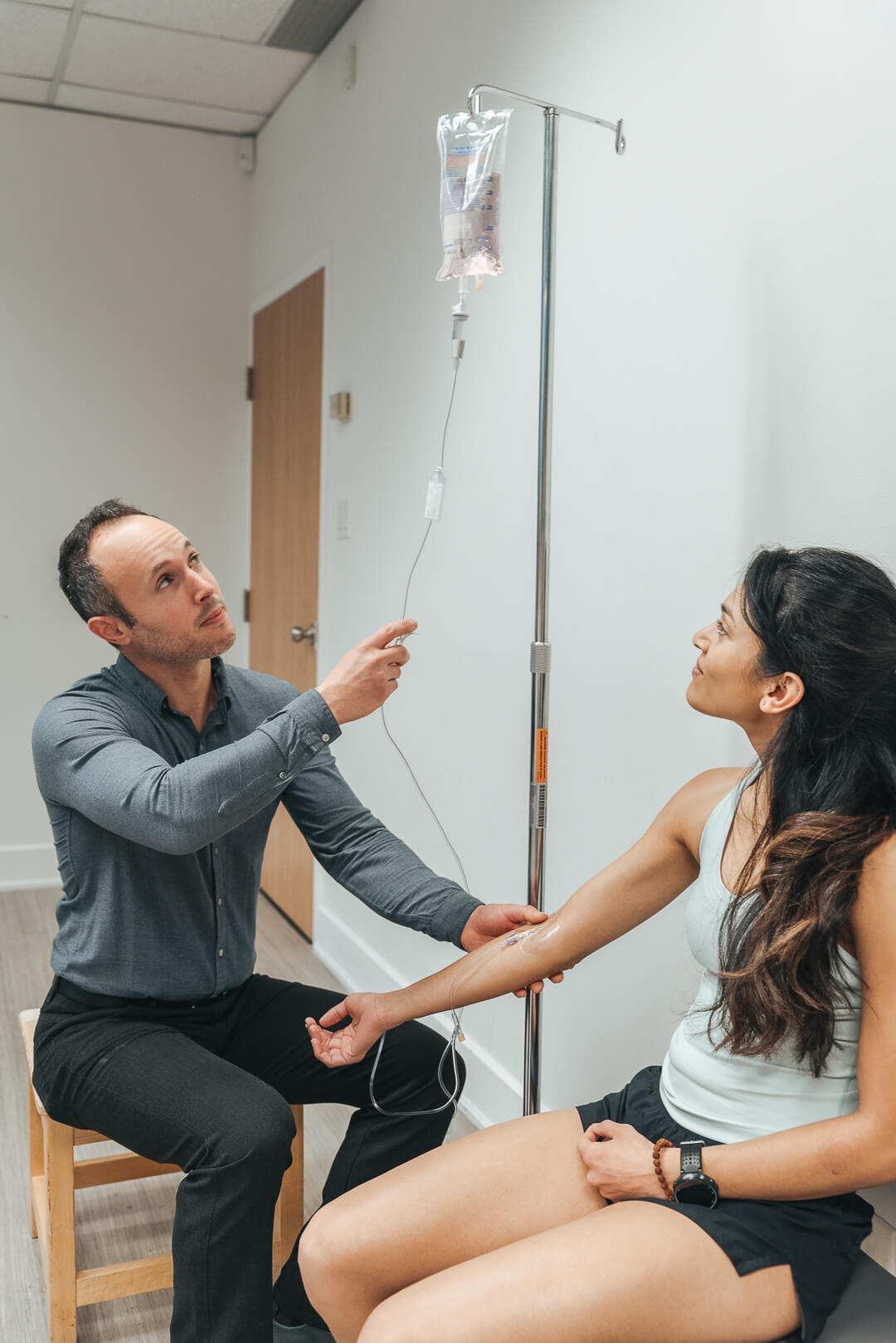 Intro to common IV therapies
Intravenous therapies such as The Myers Cocktail and High Dose Vitamin C have been used to treat a variety of health conditions for many years. A growing body of research is showing the potential benefits of using these therapies to improve the lives of patients with chronic illness.
Studies have shown that the Myers Cocktail can help improve symptoms related to fibromyalgia, chronic fatigue syndrome, asthma, and allergies.
Additionally, high dose Vitamin C has been found to reduce symptoms associated with cancer, positively impact glucose levels in type 2 diabetics, and may even have benefits in pneumonia, sepsis, and hepatitis. For those looking for a natural way to address a variety of ailments, these two treatments offer much promise.
In this article we will explore the latest research on The Myers Cocktail and High Dose Vitamin C so that you can make an informed decision about your health care options. We'll look at what each treatment is intended to do and how their effects are being studied in clinical settings. We'll also discuss potential side-effects and any precautions that should be taken when considering either treatment option.
Finally we'll take a look at some common questions about both treatments. By the end of this article you'll have a better understanding of two popular intravenous therapies that have the potential to make a significant difference in your health and well-being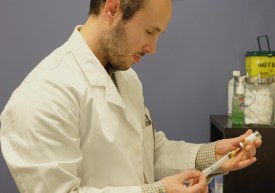 Myers Cocktail
The "Myers Cocktail" is a popular intravenous nutrient infusion therapy that consists of a mixture of vitamins, minerals and other compounds. Several studies have been published showing the benefits of the Myers Cocktail for improving various medical conditions.
Fibromyalgia
A 2006 study found that after one to three treatments of Myers Cocktail, patients with fibromyalgia experienced a marked improvement in their symptoms. Specifically, the study noted a decrease in pain and fatigue, as well as a decrease in feelings of depression associated with the condition. Moreover, the infusion therapy was reported to significantly reduce levels of tenderness at acupuncture points and other areas associated with fibromyalgia. Additionally, participants also reported an increase in energy levels following treatment.
Further research conducted by the same authors revealed further positive results from Myers Cocktail infusions. A survey of 139 registered nurses who had received at least one infusion reported improved moods, increased energy, enhanced sleep quality and better overall wellbeing after treatment. In terms of pain reduction specifically, the survey indicated that more than two thirds of participants felt significant relief after just one session. Furthermore, the study noted that there were no adverse effects recorded during or after any treatments administered.
Overall, this body of research indicates that Myers Cocktail can be an effective form of treatment for individuals suffering from fibromyalgia due to its ability to reduce pain and fatigue while also improving mood and energy levels. Further studies are needed to conclusively understand the full extent of this type of infusion therapy's efficacy in treating fibromyalgia-related symptoms. In 2015 I did a case study using the Myers Cocktail for a patient with Fibromyalgia. Check out the results by clicking HERE.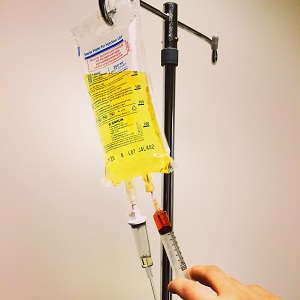 Chronic Fatigue
A 2008 study investigated the effects of the Myers Cocktail on patients with chronic fatigue syndrome (CFS). This was a double-blind, placebo-controlled trial of six months duration involving 24 participants. During the trial period, all participants were given either the Myers Cocktail or a placebo intravenously twice per week.
After six months, there was a marked improvement in energy levels and decrease in fatigue among participants who had received the Myers Cocktail compared to those who had been given a placebo. Specifically, individuals treated with the Myers Cocktail reported an average increase in energy levels of 41% and a reduction in fatigue by an average of 45%. In contrast, there was no significant change in energy levels or fatigue among those receiving the placebo.
The researchers also noted other positive effects of treatment including improved sleep quality and better mental clarity. Furthermore, they found that participants treated with the Myers Cocktail experienced less pain and an overall improvement in quality of life. These improvements were maintained over time, with no adverse effects reported during or after treatment.
Overall, this study demonstrates that the use of the Myers Cocktail may be beneficial for treating CFS as it appears to reduce fatigue levels as well as improve energy levels, sleep quality, mental clarity, pain and overall quality of life for those affected by CFS. Further research is needed to determine whether this is an effective long-term treatment option for CFS sufferers.
Allergies and Asthma
The 2015 systematic review investigated the use of intravenous vitamin therapies as an adjuvant therapy for allergies and asthma. The researchers analyzed the efficacy of popular infusions, such as the Myers Cocktail, in treating these conditions. Overall, their findings indicated that these therapies may be beneficial in reducing allergic reactions and improving symptoms of asthma. Specifically, their studies demonstrated a decrease in skin prick test reactivity against common allergens, such as dust mites and pollen, among patients who had received IV vitamin treatments. Additionally, some patients reported a reduction in airway resistance after treatment. Moreover, vitamin C was found to have anti-inflammatory properties that could help in easing symptoms associated with bronchial asthma. Finally, the review found that certain nutrients present in IV vitamins are important for the maintenance of a healthy respiratory system.
Overall, the studies indicated that there is evidence to suggest that intravenous vitamin therapies can be utilized as an adjuvant therapy for allergies and asthma when used alongside conventional medications. This is because they provide a multifaceted approach to tackling these conditions by alleviating both allergic responses and airway constriction caused by inflammation. As such, this type of therapy may offer additional benefits for those suffering from allergies or asthma compared to traditional medicaments alone.
Intravenous Vitamin C
Vitamin C is an essential vitamin with numerous health benefits, and high dose intravenous (IV) infusions of Vitamin C have been used to treat a variety of medical conditions.
Cancer
The 2017 study conducted by researchers at the University of Kentucky Markey Cancer Center revealed that high-dose vitamin C IV infusion could be an effective form of treatment for cancer patients. The study included 20 participants who were randomly assigned to receive either a placebo or infusions of high-dose vitamin C. After 8 weeks, the researchers evaluated the participants' symptoms and found that those who received the infusions experienced notable reductions in pain, fatigue, anxiety, and depression.
Not only did the participants experience a significant improvement in physical and mental health, but their overall quality of life was also enhanced. Furthermore, blood work showed that the patients' levels of biomarkers associated with tumor activity had decreased significantly. This suggests that high-dose vitamin C IV infusion may actually help reduce tumor growth as well. While these findings are promising, more research is needed to determine whether this treatment is truly effective for cancer patients in the long term.
Diabetes
A study, conducted in 2018, found that high-dose vitamin C IV infusion can have positive effects on diabetes symptoms and glucose levels in individuals with type 2 diabetes mellitus. Using a randomized controlled trial, the research team found that after 30 days of treatment with vitamin C infusions, patients showed significant improvements in their HbA1c levels and fasting blood glucose levels, compared to a control group receiving no treatment.
Additionally, those receiving the vitamin C infusions reported lower rates of fatigue and improved quality of life. The researchers also noted that the therapy was well-tolerated with no serious adverse effects reported.
Moreover, the study revealed that regular treatments with high-dose vitamin C may be beneficial for managing diabetes symptoms over time. This is due to its antioxidant properties which can help reduce oxidative stress and inflammation caused by elevated glucose levels in T2DM patients.
Furthermore, it has been suggested that this type of therapy could be combined with conventional drug treatments to better manage the condition. Ultimately, these findings indicate potential therapeutic benefits of high-dose vitamin C infusions for those living with type 2 diabetes mellitus.
Vitamin C IV in various conditions
A 2019 systematic review conducted by researchers evaluated the effectiveness of high-dose vitamin C IV infusions in treating various medical conditions, such as cancer, pneumonia, sepsis and hepatitis. The study included 21 trials with a total of 590 participants. The researchers concluded that evidence was present to support the use of vitamin C IV infusions as an adjunctive therapy for some conditions.
For instance, one trial found that intravenous high-dose vitamin C improved overall survival rate in patients with advanced pancreatic cancer compared with conventional chemotherapy alone. Another study showed that vitamin C IV infusion helped reduce mortality rate among sepsis patients. Regarding pneumonia, high-dose vitamin C infusions were also found to improve quality of life and reduce hospital stay compared to placebo. When it comes to hepatitis, one trial reported improvement in liver function tests following administration of vitamin C IV infusion.
Overall, the findings from this systematic review suggest that there is potential for high-dose intravenous vitamin C being used as an adjunct therapy for certain medical conditions such as cancer, pneumonia, sepsis and hepatitis.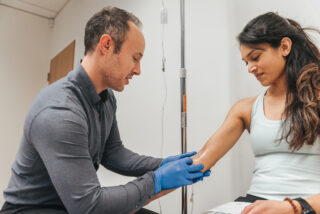 Conclusion
Myers Cocktail and High Dose Vitamin C IV therapy have both been shown to be beneficial in various different health conditions. While Myers Cocktail is particularly helpful for Fibromyalgia, Chronic Fatigue Syndrome, Allergies and Asthma, high dose Vitamin C has been linked to improved outcomes in cancer, diabetes, pneumonia, sepsis and hepatitis.
The research around the effects of these therapies is still ongoing and it is vital that further studies are conducted to better understand their potential for treating a variety of illnesses. At the same time however, more clinical trials should also be undertaken to ascertain their effectiveness when compared to other treatments currently available.
Although there are many potential benefits associated with both the Myers Cocktail and High Dose Vitamin C IV therapies, it is important that individuals consult with their IV therapy specialist before pursuing either treatment. This will ensure that they receive the most appropriate care for their individual needs and circumstances. For more information on IV therapies offered at my clinic Click Here
References
The 2006 study on the Myers Cocktail for fibromyalgia can be found in Bloom, 2006.
The 2008 study on the Myers Cocktail for chronic fatigue syndrome (CFS) can be found in Forsyth, 2008.
The 2015 systematic review of intravenous vitamin therapies for asthma and allergies can be found in Brown et al., 2015.
The 2017 study on high dose vitamin C IV infusion and cancer can be found in Kanematsu et al., 2017
The 2018 study on high dose vitamin C IV infusion and type 2 diabetes Mellitus (T2DM) can be found in Maeda et al., 2018
-The 2019 systematic review of high dose Vitamin C IV infusions for various medical conditions can be found in Wang et al., 2019(https://www.ncbi.nlm