---
Have you ever seen those circular bruises on the back of athletes' shoulders and wondered how they got there? Chances are, they're the result of a practice known as cupping. Cupping therapy is an age-old form of alternative medicine, originating from ancient Chinese and Egyptian cultures. The practice involves creating suction on the skin using cups, which pulls the skin upwards and increases blood flow to the area. This is believed to help mobilize blood flow, promoting healing and relieving muscle tension.
There are various types of cupping therapy, each with its unique benefits and applications. In this article, we'll delve into three main types: flame cupping, vacuum cupping, and sliding cupping. We'll explore their characteristics, benefits, scientific research backing their effectiveness, and the potential risks involved.
Flame Cupping
Flame cupping, also known as fire cupping, is the traditional method of cupping therapy. It involves soaking a cotton ball in alcohol, setting it alight, and then placing it inside a glass cup. The fire consumes the oxygen inside the cup, creating a vacuum as it cools, which causes the cup to stick to the skin and draw it upwards.
Research suggests that flame cupping can assist in pain management, inflammation reduction, and promote relaxation. A study published in PLoS ONE found that patients with chronic neck pain reported significant pain relief after undergoing flame cupping therapy.
However, there are risks associated with flame cupping, including burns, skin infection, and temporary skin discolouration. Therefore, it's crucial to have this procedure performed by a trained professional.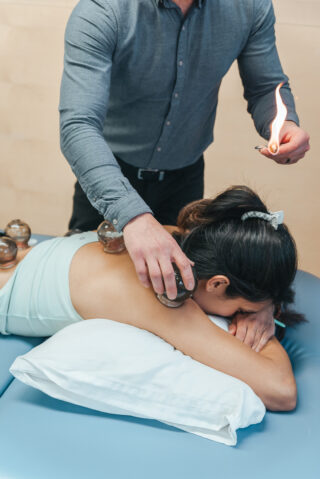 Vacuum Cupping
Vacuum cupping, also called mechanical or suction cupping, uses a hand-held pump to create the suction effect instead of heat. This method offers more control over the amount of suction and will avoid the potential to cause burns.
Research indicates that vacuum cupping can be beneficial for conditions like fibromyalgia and chronic back pain. A systematic review in Evidence-Based Complementary and Alternative Medicine found that vacuum cupping significantly reduced pain in people with fibromyalgia compared to no treatment.
While vacuum cupping is generally safer than flame cupping, potential side effects include bruising, discomfort during the procedure, and minor skin irritation.
Slide Cupping
Slide cupping, or moving cupping, involves applying oil to the skin, creating suction in the cup, and then sliding the cup around the affected area. This technique is often used for treating large muscle groups and is particularly popular among athletes for recovery.
A study in the Journal of Traditional and Complementary Medicine reported that slide cupping could improve range of motion and decrease perceived muscle soreness in athletes.
Slide cupping shares similar risks with the other types, including possible skin irritation and discolouration.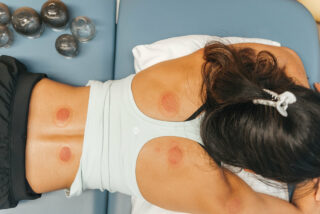 How it works
The primary goal of cupping therapy is to enhance circulation, help relieve pain, remove "heat," and pull out the toxins that linger in your body's tissues. It's believed that the suction from the cups lifts the skin and underlying tissues, leading to increased blood and lymph flow. This fresh influx of blood nourishes and repairs the targeted area, promoting healing and relaxation.
From a scientific perspective, cupping therapy may improve blood flow, reduce inflammation, and activate the immune system. The vacuum created by the cup stimulates the nervous system, which can increase blood circulation and reduce pain.
Conditions
Several studies suggest that cupping therapy may be beneficial for a variety of health conditions:
Chronic Pain: A systematic review of 135 studies found evidence that cupping therapy can effectively reduce chronic neck and lower back pain.
Cardiovascular Diseases: Some researchers suggest that cupping could help manage cardiovascular diseases by improving blood flow. However, more research is needed in this area.
Respiratory Diseases: Cupping is traditionally used in the treatment of respiratory diseases like the common cold, pneumonia, and bronchitis. Scientific evidence supporting this use is limited but growing.
Skin Diseases: Anecdotal evidence suggests that cupping may help with acne, herpes zoster, and other skin diseases. More rigorous studies are needed to confirm these effects.
It's worth noting that cupping has been associated with some risks, particularly when done without proper training or hygiene. The most common side effects include bruising, skin irritation, and mild discomfort. More serious complications, such as infections or bleeding, are relatively rare but can occur, particularly with wet cupping. Additionally, cupping is not recommended for everyone, particularly pregnant women, people with bleeding disorders, or people taking blood thinners.
Check out more Naturopathic solutions to chronic pain

Here
Conclusion
Cupping is an ancient therapy that has been used for centuries to treat a variety of conditions, but it remains a relatively mysterious and controversial practice in the West. While cupping has been associated with some potential benefits, including pain relief, more research is needed to fully understand its mechanisms and effectiveness. Additionally, cupping does carry some risks, particularly when done without proper training or hygiene. If you're considering cupping as a therapy, it's important to do your research and work with a qualified practitioner to ensure safety and effectiveness.
For more information on Cupping Click Here
---